I've got a lot of coursework to finish during this isolation time, but that makes it even more important to give my mind a break and do something that isn't for grades. I used to be a HUGE bookworm (I'm talking about reading 2 books a week), but I've really let that slide. To remedy this, I've been searching goodreads for popular releases, and here are 5 recommendations from different genres which I'll be trying to read too!
Fantasy
The Midnight Lie by Marie Rutkoski
"Set in the world of the New York Times–bestselling Winner's Trilogy, beloved author Marie Rutkoski returns with an epic LGBTQ romantic fantasy about learning to free ourselves from the lies others tell us—and the lies we tell ourselves."
From Blood and Ash by Jennifer L. Armentrout
"Chosen from birth to usher in a new era, Poppy's life has never been her own. The life of the Maiden is solitary. Never to be touched. Never to be looked upon. Never to be spoken to. Never to experience pleasure. Waiting for the day of her Ascension, she would rather be with the guards, fighting back the evil that took her family, than preparing to be found worthy by the gods. But the choice has never been hers."
Non-fiction
Don't Overthink It: Make Easier Decisions, Stop Second-Guessing, and Bring More Joy to Your Life by Anne Gobel
"In Don't Overthink It, you'll find actionable strategies that can make an immediate and lasting difference in how you deal with questions both small–Should I buy these flowers?–and large–What am I doing with my life? More than a book about making good decisions, Don't Overthink It offers you a framework for making choices you'll be comfortable with."
Wow, no thank you by Samantha Irby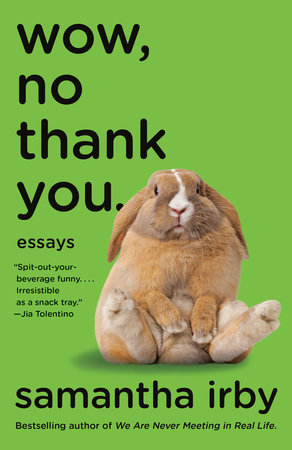 "A new essay collection from Samantha Irby about aging, marriage, settling down with step-children in white, small-town America, health food and skincare obsessions, money trouble, the real story of glamorous Hollywood life and more."
Historical
The Winemaker's Wife by Kristin Harmel
"The author of the engrossing international bestseller The Room on Rue Amélie returns with a moving story set amid the champagne vineyards of northern France during the darkest days of World War II, perfect for fans of Kristin Hannah's The Nightingale."
Anything catch your eye?
By Nimra